Flourish: A Positive Education Conference
Join us in 2024 at Flourish: A Positive Education Conference, where you will engage with the science and practices of positive psychology for yourself, your students and your school.
By attending, you will connect with peers from across the industry and leave feeling replenished and equipped with tools, habits and ideas to kickstart the new school year.
When: August 21-23, 2024
Location: Ridley College, St. Catharines, ON
Sign Up to Receive Conference Updates
---
In a world where the challenges facing educators and students are ever-evolving, it's crucial to adopt a proactive approach to education that emphasizes not just academic achievement but also holistic wellbeing.
A few challenges we aim to address at this conference include:
Teacher wellbeing
Student wellbeing
The impact of social media on youth
Diversity without division
Belonging
Nurturing habits for vitality
School culture
Resilience
Prioritizing your wellbeing isn't selfish. It's vital to allow you to be at your best so you can support the needs of your students.
---
What to Expect
Inspiring Keynote Speakers: Hear from and engage with thought leaders and learn how to apply the science of positive psychology and positive education to your life and your school culture.

Thought-Provoking Workshops: Dive deep into practical sessions that will equip you with the tools to implement positive education practices with your students and in your classroom.

Networking Opportunities: Connect with like-minded educators, school administrators, counsellors and wellbeing experts. Share experiences, exchange ideas and build invaluable professional connections.

Interactive Experiences: Experience positive psychology in action while networking with peers through a series of interactive games and activities or while exploring the beautiful Niagara Region.
---
Schedule At A Glance
Preconference: Wednesday, August 21
Registration
Afternoon: Pre-conference workshops
Optional evening activity: Ridley College Headmaster's Marché (food, drinks, networking)
Day 1: Thursday, August 22
Registration
Morning: Experience the history, culture and activities in Niagara
Afternoon: Conference opening keynote, followed by breakout sessions
Evening: Positive Education Immersive Experience, curated by the Flourishing Centre
Day 2: Friday, August 23
Registration
Full-day conference sessions and keynote speakers
Evening: Foster Festival performance
The full conference schedule will be posted in early 2024.
---
Why Positive Education?
At Ridley College, we believe the primary aim of education is the cultivation of human flourishing. As such, this has been at the heart of our approach to learning for over a decade.
We define 'flourishing' as PERMA-V, the human development theory developed by Dr. Martin Seligman. Each of the letters represents pillars of wellbeing that are foundational to everything we do at Ridley.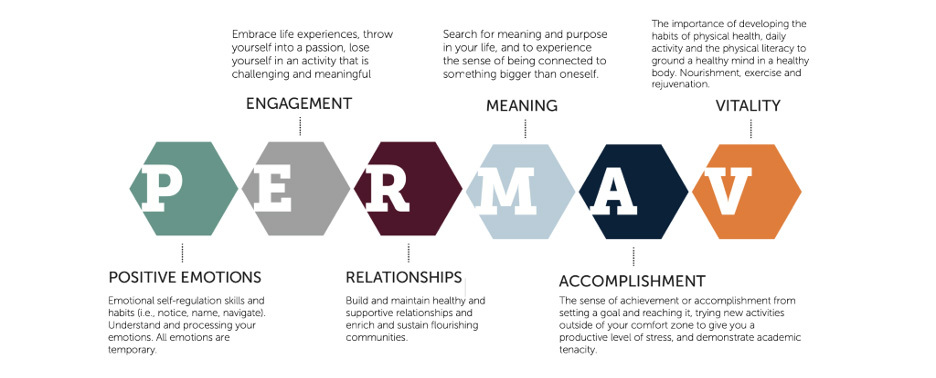 Integrating positive education practices into a school culture offers a wide range of benefits for both students and educators. Here are some of the key advantages:
Improved Wellbeing: Positive education fosters emotional resilience, self-awareness, and stress management skills, leading to improved overall mental and emotional wellbeing among students and educators.
Enhanced Academic Performance: When students are emotionally and mentally healthy, they are better able to focus on their studies and engage in the learning process, ultimately leading to improved academic performance.
Positive School Climate: Implementing positive education practices creates a more inclusive, respectful, and harmonious school environment. It reduces instances of bullying, conflict, and disciplinary issues.
Character Development: Students develop important character strengths such as empathy, gratitude, perseverance, and kindness, which contribute to their personal growth and prepare them for success in various aspects of life.
Increased Motivation: Positive education encourages a growth mindset, fostering a love for learning and a sense of purpose, which significantly increases students' motivation to excel academically.
Teacher Satisfaction: Educators who implement positive education practices report higher job satisfaction, lower stress levels, and reduced burnout. They feel more supported and fulfilled in their roles.
Long-Term Impact: The skills and values instilled through positive education can have a lasting impact on individuals, helping them make meaningful contributions to society and promoting positive change in the world.
---
Flourish Conference 2019
The inaugural Flourish Conference, hosted by Ridley College in partnership with the Canadian Positive Psychology Association in June 2019, brought educators from across North America to Ridley College to advance their understanding and application of the science of Positive Education.
The event featured keynote speakers Professor Lea Waters and Dave Mochel, along with invited speakers Louisa Jewell, Emiliya Zhivotovskaya, Greg Evans, Juan Arenas and Tamara Lechner.
Flickr album: Flourish: Positive Education Conference 2019
|
Height: auto
|
Theme: Default | Skin: Default Skin
---
Mark Your Calendar
We hope you'll join us at Flourish: A Positive Education Conference to explore, learn and grow together in a supportive, collaborative community.
Date: August 21-23, 2024
Venue: Ridley College, St. Catharines, ON
Learn More: ridleycollege.com/flourishconference
Don't miss this unique opportunity to come together with educators and administrators from across the country to prioritize your wellbeing and unlock the full potential of your students using the science of positive psychology and positive education.
Sign up to receive updates on registration, keynote speakers and the conference schedule as it develops.
Sign Up to Receive Conference Updates
---
Contact Us
If you have questions about the conference, please email [email protected].
---