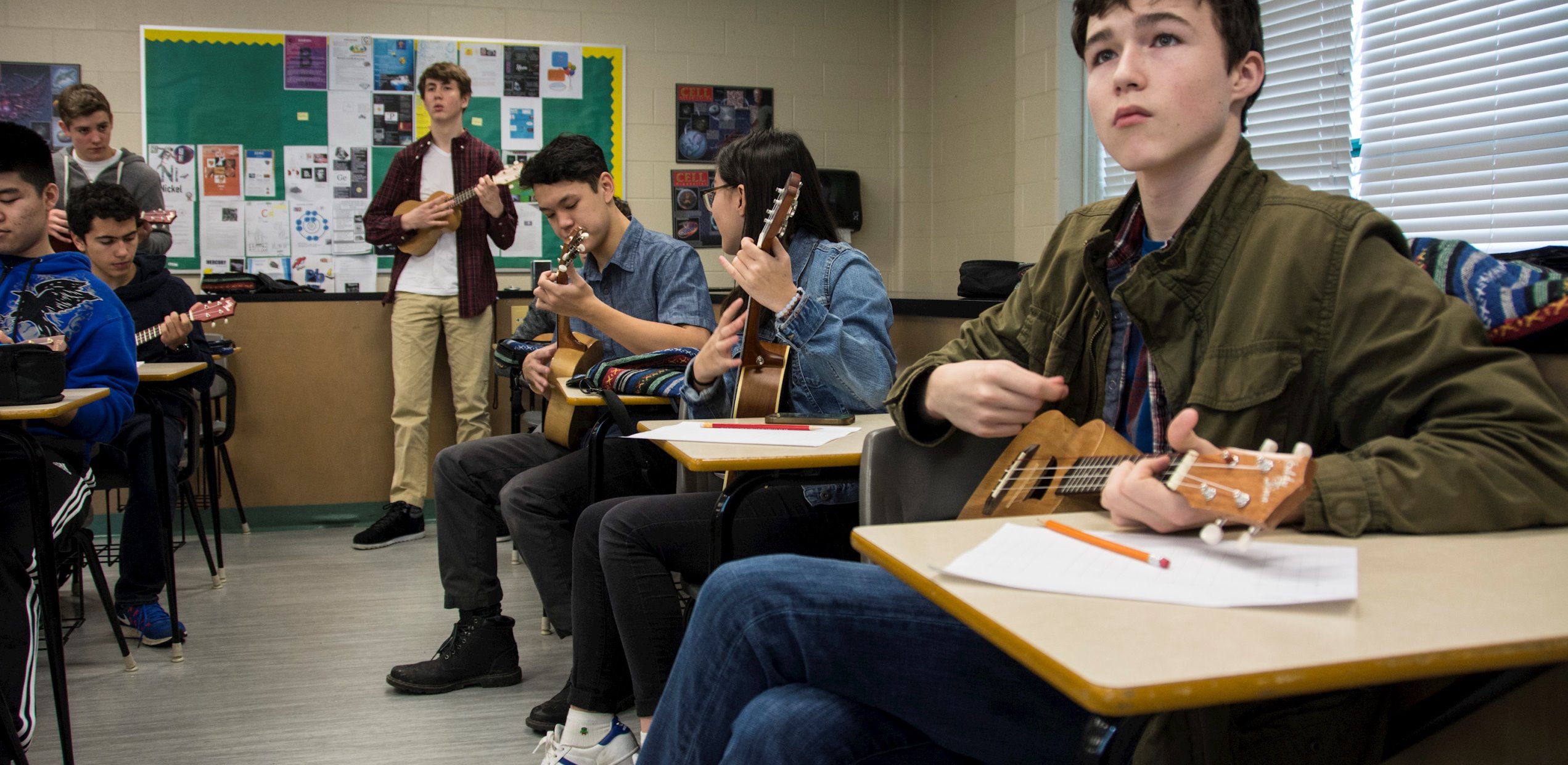 Middle School Athletics and Co-Curriculars
Our Middle School co-curricular programmes offer something for everyone and play a vital role in shaping a student's educational journey.
Co-curricular programming offers students opportunities for skill development, enhanced learning, social development, character building, and career exploration, among other benefits. At Ridley, our students enjoy activities from a variety of fields, such as arts, music, recreation, and exploring personal interests, which will enhance your child's overall educational experience and help them prepare for success in university, their future life and their career.
---
Middle School Exploratory Programme
The Ridley College Middle School Exploratory programme introduces an innovative approach to learning, granting students the exciting opportunity to select and engage in five unique exploratory sessions spread across the academic year. Each exploratory session is meticulously designed to span 12 blocks of 50 minutes, offering students a comprehensive and immersive experience in the chosen topic. As students delve into these sessions, they will have the chance to explore a diverse array of themes that extend beyond the core curriculum, nurturing their innate curiosity and intellectual growth.
The programme's structure culminates in a celebratory assembly at the conclusion of each session. This assembly serves as a platform for students to share their acquired knowledge, insights, and newfound skills in creative and interactive ways. Whether it's through presentations, projects, performances, or other innovative methods, students will be able to showcase the depth of their learning journey during these culminating events.
Embracing the essence of the International Baccalaureate (IB) philosophy, the exploratory programme enhances students' educational experience by providing them with an array of learning opportunities beyond traditional subjects. This initiative not only encourages academic exploration but also nurtures the development of critical skills such as problem-solving, communication, and collaboration. Through the exploratory programme, students are empowered to broaden their horizons, deepen their understanding of diverse subjects, and embark on a journey of self-discovery and growth.
Sessions may include:
Investors Club
One of a Kind Market
Printmaking
Improv
E-sports
Painting
Five Pillars of Health
Theatre Production
Robotics
---
Arts and Musical Expression
Students participate in music and visual art several times a week, guided by specialist subject teachers. Creative co-curricular clubs are also offered before and after school, and private music lessons are available.
| Activity | Grade | Term |
| --- | --- | --- |
| Cadet Band | Grades 7-8 | Terms 1-3 |
| Dramatic Production | Grades 7-8 | Terms 2-3 |
| Intermediate Art Club | Grades 7-8 | Term 2 |
| Intermediate Choir | Grades 7-8 | Terms 1-3 |
| Rock Band | Grades 7-8 | Terms 1-3 |
---
Athletics and Physical Literacy
Middle School students at Ridley participate in sport throughout the school year. Our Train to Train model supports Sport for Life's long-term development framework and is focused on providing an environment that supports fun and friendship, cultivates life skills, and further develops sport-specific competencies and fitness.
Formalized competition takes place within the Canadian Independent School Athletic Association (CISAA) and focuses on the process of competing and applying learned skills, not on results. Furthermore, our association believes in meaningful competition (where competitors are matched with others of a similar level of ability and are challenged to be the best they can be at that moment in time) and, where it's safe to do so, offering equal competition opportunities.
Although we will ensure that every child can participate in sport, please note that not all students will make the competitive team roster of their choice. Our coaches make decisions based on what they believe is best for all students involved and are guided by our school and athletic association values. If further discussion is warranted, please arrange an appointment with the Director of Athletics, Ms. Courtney Smith.
| Fall | Winter | Spring |
| --- | --- | --- |
| Girls' Basketball | Girls' Volleyball | Girls' Soccer |
| Girls' Field Hockey | Boys' Basketball | Girls' Softball |
| Boys' Soccer | Co-Ed Dance | Boys' Touch Rugby |
| Boys Flag Football | Co-Ed Hockey | Boys' Tennis |
| Co-Ed Cross Country | Co-Ed Rowing | Co-Ed Badminton |
| | Co-Ed Squash | |
Learn More About Our Athletics Programmes
---
Student Leadership
Ridleians are encouraged to act as positive role models, coaches and mentors to their peers and younger students. In Monday Advisory Sessions, part of Ridley's Advisory programme, students engage in weekly discussions and activities throughout the year to enhance their leadership skills, and each Lower School student is also part of a House team where they participate in competitions and activities throughout the year for points.
On top of this, there are a number of other leadership opportunities available to students:
Classroom Leadership
Sports Team Leadership
House Team Leadership
Primary Lunchtime Helpers
Cadets Programme
House Team Captains
---
---